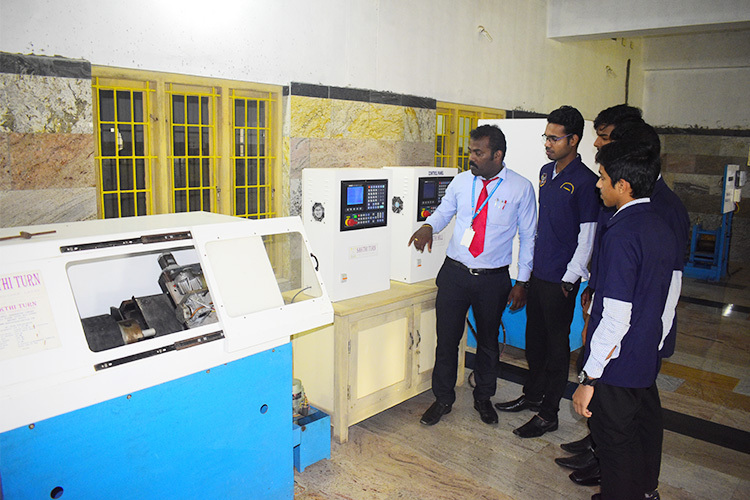 About the Department
The Department of mechanical Engineering started to function in the year 2010 with the vision to nurture the competency of the students in solving engineering problems and strengthening them to visualize their dream as Mechanical Engineers in reputed firms. The Department has well established workshops and laboratories to equip the students to get trained with all kinds of machineries and tools. The dedicated faculty members contribute the best possible training for the students as Mechanical Engineers' demand in business and engineering services is predicted to rise faster than average.
The Undergraduate Program (UG) of the Department of Mechanical Engineering has been in operation since 2010, with the goal of developing technically skilled and socially responsible engineers. In the 2013-14 academic year, the department added a Postgraduate course in Manufacturing Engineering with a total enrolment of 24 students. The Department is housed in a 1594 sq.mt building with a total size of 1594 sq.mt. with 7 classrooms, 12 labs, tutorial room, Departmental library and seminar hall. The workstations and laboratories are well-equipped, and students have access to all resources for gaining practical experience. The Department features a unique mix of energetic young people who are led by a group of distinguished and experienced teachers. In the University Examinations, the Department has consistently produced good results. Faculty and students have presented research papers at national and international conferences.
Outcome Based Education
Mechanical Engineering at BIoE endeavors to follow the Outcome Based Education for all the UG and PG programme offered under the choice based credit system (CBCS) curriculum. It is aimed to achieve the outcomes in terms of Remembering, Understanding, Applying, Analysing, Evaluating and Create at the end of the programme. This entails a regular methodology for ascertaining the attainment of outcomes, and benchmarking these against the Program Educational Objectives (PEOs), Program Outcomes (POs), Program Specific Outcomes (PSOs) consistent with the objectives of the programme.